United for Iran was born from a global grassroots movement to end human rights violations and support democracy in Iran . Our campaigns give people who support a free and open Iran ways to support political prisoners and civic activists in Iran who are advocating for systemic change. We aim to be creative and measured to build momentum and keep critical issues in the public eye.
Collaborations with Artists
We believe the soul of activism is found in art. Since our founding, U4I has collaborated with musicians, artists, performers, and other groups to raise awareness and generate support for the people of Iran.
International Women's Day Music Video, 2023
As the "Women, Life, Freedom" protests unfolded, United for Iran partnered with Iranian and international women rap artists and musicians on International Women's Day to create the "Shout of Freedom" music video. The artists involved were Justina, Hero and Frya, MCM, Malake, Bahar Dekhordi, sookee, and Hanie, with music produced by Jamin.
Clarion Alley Art Project, 2019
In the fall of 2019, United for Iran co-organized an event with the Clarion Mural Art Project titled: In Honor of Iran's Political Prisoners. The event was a month-long, multi-faceted project of art, literature, and performances in remembrance of the hundreds of men and women who have been taken as political prisoners in Iran. The mural featured 7 Iranian women who have been imprisoned for their activism, including lawyer Nasrin Sotoudeh, environmental activist Niloufar Bayani, social and civil activist Sepideh Gholian, and others.
Borders and Boundaries: Expanding the Boundaries of Freedom of Speech, 2019
Many gifted Iranian artists choose to express themselves and what they stand for at the risk of jeopardizing their freedom. They are constrained by official and unofficial "red tape" that determine what is permissible expression in the Islamic Republic of Iran.
United for Iran's Borders and Boundaries project invited artists to push the boundaries of free speech. A collection of visual art pieces were reviewed by an esteemed panel of judges: Parastou Forouhar, Ethan Russell, and Hassan Sarbakhshian, and the top selections were displayed at the 2019 Oslo Freedom Forum.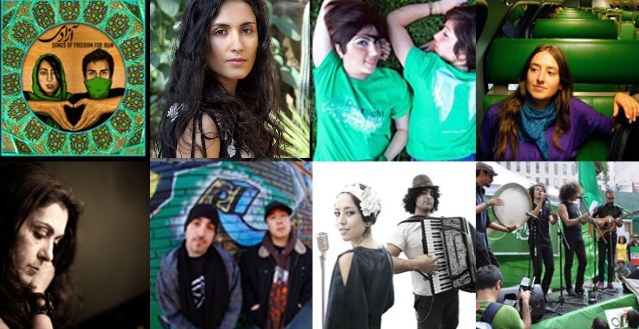 Freedom Songs Mixtape, 2011
Azadi: Songs of Freedom for Iran was released featuring musical tributes to Iranian citizens from artists all over the world. Artists from Iran, Libya, Iraq, Syria, South Africa and the US spoke from direct experience with oppression and resistance, addressing Iran's current conditions, imprisonment, and the Arab Spring.
Global Solidarity Art Day, 2009 
On the first International Human Rights day following Iran's 2009 presidential elections, United for Iran collaborated with diaspora artists and allies in 33 cities around the world to support Iranian protesters. Events included galleries, concerts, theater, online art exhibitions, and other forms of solidarity artwork.
Global Protests
United for Iran began in 2009 as a demonstration of global protest against the IRI's human rights abuses, which generated support from over 100,000 people in 110 cities around the world. Today, we continue to organize and support demonstrations and advocacy campaigns to support the people of Iran.
Political Prisoner Awareness Day, 2010
United for Iran launched a campaign to highlight cases of 50 political prisoners. People in 90 cities around the world "adopted" political prisoners, organized rallies, spoke to the media and led their own petition and postcard campaigns. Support ranged from the creation of mobile billboards, newspaper ads, postcard campaigns, and shows of support at the World Cup.
Global Day of Action, 2009
United for Iran was born out of global protest and solidarity for the people of Iran. Heavy-hearted by violence in the aftermath of the 2009 Iranian presidential elections, United for Iran founder Firuzeh Mahmoudi organized a global rally to draw attention to the tragedy unfolding in Iran. On July 25, 2009, over 100,000 people in 110 cities around the world took to the streets in support of Iranian citizens and their quest for rights.